Welcome to the Creative Playground, my personal space dedicated to artistic experimentation. This is where I delve into versatility and strive to develop new forms and styles of creating Art!
Here, you'll discover my studies, sketches, and unofficial creations, where I aim to explore new techniques, methods of illustration, and artistic styles. This is where my creativity takes flight, and where I share my experimental journeys in the world of art.



Português



Bem-vindo ao Creative Playground, meu espaço pessoal dedicado à experimentação artística. É aqui que me aventuro na versatilidade e busco desenvolver novas formas e estilos de criar Arte!
Aqui você encontrará meus estudos, rabiscos e criações não oficiais, onde busco explorar novas técnicas, métodos de ilustração e estilos artísticos. Este é o lugar onde minha criatividade ganha asas e onde compartilho minhas jornadas experimentais no mundo da arte.
WELCOME TO MY CREATIVE PLAYGROUND
Bad Boys - For Life by Jean Michel at DSNS Art


This was a study I did when the movie 'Bad Boys For Life' was announced. The idea here was to play with warm colors and geometric combinations. I was also experimenting with some brushes that simulate stippling digitally, as you can see in the detail of Will Smith's face.

The fun here was immense, and I ended up really liking the final result. When I posted this artwork on Instagram, it caught the attention of the movie's director, Bilall Fallah. I also ended up using this aesthetic style for the cover art of one of my clients when I created the artwork for the band Mandala Folk and their album titled 'A Taberna no fim do Universo' (The Tavern at the End of the Universe).
Better Call Saul by Jean Michel at DSNS Art
Art that I explored in the style of Pop Art mixed with comic book aesthetics. This art gained significant attention on social networks like Behance and Pinterest, especially after it was selected by the curators of the Breaking Bad series to participate in an exhibition called '99.1% Pure Art | Breaking Bad - Better Call Saul.'
You can check out an online version of this exhibition on Behance by simply searching for the name '99.1% Pure Art | Breaking Bad - Better Call Saul.'
I have to say, I was thrilled by the invitation. The Breaking Bad universe is spectacular and one of my favorite series!
Although this art isn't official, I do have an official piece of work related to the Breaking Bad universe. It's the illustration I created for the poster of the movie 'El Camino: A Breaking Bad Film,' which was made exclusively for Comic Con Brazil and was featured at the Netflix booth. Someday, I'll tell you about this journey and what it was like to create this piece!
Year One Series: Batman & Superman by Jean Michel at DSNS Art
I love comics so much that I have a small collection of them, including several definitive editions. On my shelf, there are many celebrated works of the ninth art, and among them, one of my favorite stories is 'Batman Year One' by Frank Miller and David Mazzucchelli. The writing in this comic and Mazzucchelli's expressionist art are outstanding, undoubtedly one of the best Batman stories.
But why am I talking about comics and the 'Year One' work?
Because it was based on this comic that I did this interpretation and created this illustration in the characteristic style of David Mazzucchelli's artwork. I also made a 'Year One' version of Superman. I had both works printed at a local print shop in A3 size, and they now decorate my office!!!
Daredevil by Jean Michel at DSNS Art
Still talking about David Mazzucchelli, here I was studying his art style. I was working on looser inking, aiming to infuse it with expressionist aesthetics.
This art was based on the Daredevil from the Netflix series, which, by the way, was an excellent show, although I think it's no longer available on the platform.
Daredevil is also one of my favorite comics, and what I love the most is the 'Born Again' storyline (known as 'A Queda de Murdock' in the Brazilian version), also written by Frank Miller and illustrated by David Mazzucchelli. Frank Miller was at the peak of his creative powers in the 80s, and his works easily make it to the top of favorite lists when we talk about the best comic book story arcs.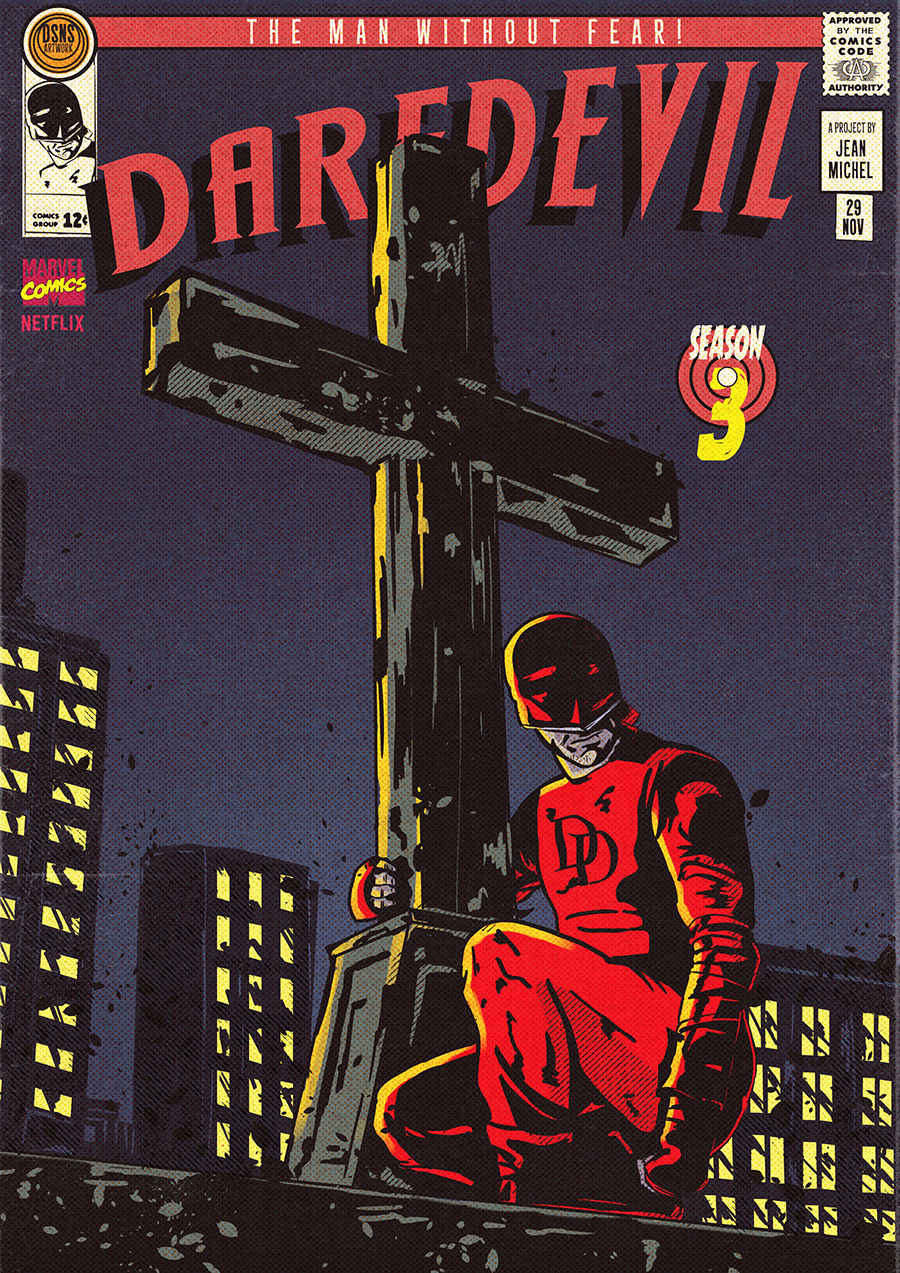 La Casa de Papel by Jean Michel at DSNS Art
This art was a study I did shortly after the release of the first season of the Spanish series, which gained significant attention when it arrived on the Netflix platform.
To create this piece, I used a very fine tip to simulate a delicate line for the illustration. I was quite pleased with the final result, and the color palette and choice of typography added to its vintage feel.
Barbie by Jean Michel at DSNS Art
Barbie, directed by Greta Gerwig and starring Margot Robbie as Barbie and Ryan Gosling as Ken, had excellent commercial success. Here, I took the opportunity to create an illustration that somewhat resembles the retro style of comics.

Both of their outfits are reminiscent of a classic Barbie series!!!! I must confess, I'm not sure how to describe the artistic style of this artwork, perhaps Retro Comics or Pop Art? If anyone has suggestions for a name for this type of illustration, please send them through the contact form!!!!
Akira by Jean Michel at DSNS Art


And manga shouldn't be left out. The Eastern industry knows how to create true masterpieces, and 'Akira' is one of them. By the way, the movie might be even more famous than the manga. But here's a tip, if you've never read a manga and want a suggestion, 'Akira' is definitely one of them.
But let me get back to talking about the study I did, ha ha ha ha ha. If I had the honor of being invited to a celebration of the 'Akira' manga and anime and was asked to create an illustration in my artistic visual style, Kaneda would probably have the appearance seen in this illustrative study I did.
This poster was created by me, both the illustration and the design, and it's my small tribute to this manga and anime, which is a reference when it comes to a work of science fiction exploring the Cyberpunk world. It's no wonder that art forms like manga and anime, popular in Japan, became well-known in the West because of this masterpiece, which is a technical marvel.
The animated film, released in 1988 and directed by Katsuhiro Otomo himself, is one of the most important and influential films in the history of Japanese animation. It's one of the greatest masterpieces of world animation and is listed among the 500 greatest films of all time by Empire magazine. Moreover, the film earned director Katsuhiro Otomo the Silver Scream Award at the Amsterdam Fantastic Film Festival in 1992 and was awarded the Medal of Honor by the Japanese government. And, between us, it deserved every possible and imaginable award.
In short, a true masterpiece!!!
Wolverine by Jean Michel at DSNS Art
Big fan of the aesthetic style of comics from the 80s and 90s. Here, I was experimenting and playing around with the styles of Mike Mignola and John Byrne. At least, I tried to blend them together, ha ha ha ha.
In the end, I found the final result of this study pretty cool!